Jayne's biography continued...

At the age of 21, Jayne made her Broadway debut in 1941 in the hit comedy SPRING AGAIN, and went on to star in six more Broadway shows. However, it was the Broadway hit THE GAZEBO that established Jayne as a top comedienne. Her return to Broadway in the 1980 revival of Kaufman and Hart's classic ONCE IN A LIFETIME with John Lithgow and Treat Williams was met with rave notices. And with her husband, Steve Allen, she performed A.R. Gurney's two character play LOVE LETTERS in theaters all across America. In 1993, she won the Drama-Logue Award for Best Performance by a Stage Actress in a Drama for her performance in Neil Simon's LOST IN YONKERS, which the critics called a "triumph", "superb", and "the performance of a lifetime".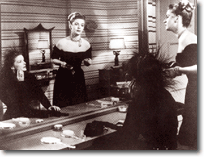 "Undercurrent" with Katherine Hepburn

It was Hollywood that established Jayne, the Broadway comedienne, as Jayne, the dramatic actress, in such films as: UNDERCURRENT, with Katherine Hepburn; DAVID AND BATHSHEBA, with Gregory Peck; LADY IN THE LAKE, with Robert Montgomery; ENCHANTMENT, with David Niven; THE SONG OF THE THIN MAN, with William Powell and Myrna Loy; and LUCK OF THE IRISH, opposite Tyrone Power -- to name a few.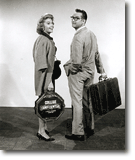 College Confidential

On television she starred in virtually all the prestigious dramatic programs of the Golden Age of Television: HALLMARK HALL OF FAME, PULITZER PRIZE PLAYHOUSE, STUDIO ONE, GENERAL ELECTRIC THEATER, U.S. STEEL HOUR, ROBERT MONTGOMERY PRESENTS, THE DUPONT SHOW OF THE WEEK, KRAFT TELEVISION THEATER, DANGER, SUSPENSE, etc.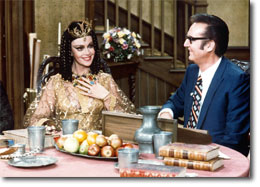 Meeting of Minds

During all the foregoing activity, Jayne managed to appear as a regular panelist on CBS's top-rated I'VE GOT A SECRET for seven years. This popular program was consistently rated a top five prime-time show during her tenure, and made her a household name and the second highest-rated actress on the CBS television network at the time. Lucille Ball was number one. During the 1950's, Jayne appeared on the cover of TV GUIDE five times, including once in 1954 with her newly wed husband, Steve Allen, creator and first host of THE TONIGHT SHOW, which premiered on her 35th birthday in 1954.
Click here to continue.