Jayne's biography continued...

Among her proudest dramatic credits were: four years on the award-winning PBS series MEETING OF MINDS, for which she co-wrote and performed the historic characters: Marie Antoinette, Cleopatra, Elizabeth Barrett Browning, Catherine the Great, Susan B. Anthony, Margaret Sanger, and the 90-year-old Florence Nightingale (Emmy nomination, 1979); three seasons on MEDICAL CENTER (CBS); and guest appearances on ST. ELSEWHERE (Emmy nomination, 1987), MURDER SHE WROTE, SISTERS (with her real life sister Audrey Meadows), HOMICIDE: LIFE ON THE STREET, THE NANNY, and DIAGNOSIS MURDER. In 1995, she earned her fifth Emmy nomination for her recurring role in the CBS TV comedy series HIGH SOCIETY. And in 1999, she was featured as Michelle Pfeiffer's mother in THE STORY OF US starring Bruce Willis. Additionally, Miss Meadows often noted that one of the happiest shows of her career was the early morning radio program that she and her beloved husband Steve created daily from their home in the San Fernando Valley.
A few of her Movies-of-the-Week include: ALICE IN WONDERLAND, & ALICE THROUGH THE LOOKING GLASS (as the Queen of Hearts for CBS), HAWAIIAN HONEYMOON (Disney-NBC two parts), Bob Hope's NICE, DEADLY WEEKEND (NBC), TEN SPEED AND BROWNSHOE (ABC), THE JAMES DEAN STORY, (CBS-as Hedda Hopper), and MISS ALL AMERICAN BEAUTY (CBS). Miss Meadows also co-hosted with Arthur Godfrey the first two years of the MISS UNIVERSE pageant.
Jayne's television comedy/variety career was equally full with multiple appearances on the Red Skelton, Sid Caesar, Steve Allen, Milton Berle, and HOLLYWOOD PALACE television shows, as well as guest appearances with Jackie Gleason, Bob Hope, and Judy Garland.
Jayne, an accomplished writer in several media, wrote the original story for a segment of FANTASY ISLAND, which starred her & Steve Allen. Her play, THE ETERNAL BED, was produced at the Stop-Gap Theater in Los Angeles. Carte Blanche magazine published a column under Jayne's byline for five years and she contributed short stories in two books for Larry King, two for Willard Scott, and one for Hugh Downs.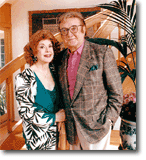 Jayne and Steve

Jayne and her brilliantly talented and versatile husband, author, composer, musician and comedian Steve Allen, appeared together on stage, screen, radio, records and television for more than 46 years and contributed their time, talents and resources to literally hundreds of charitable organizations. Perhaps because of the example set by her missionary parents, Jayne dedicated her life to community service, annually serving holiday meals to the homeless at the Los Angeles Mission with her husband, son and later grandchildren, hosting the Salvation Army Christmas Kettle fundraising drive, and emceeing the annual Screen Smart Set Fashion Show which benefitted the Motion Picture Country Home in Woodland Hills. Jayne served as Honorary Mayor of Encino, Foster Mother of the Year, and Chair of the National Association for Mental Health Fundraising Campaign touring the U.S. with the late Dr. William Menninger. She received numerous awards for her public service and humanitarian devotion to causes including cancer, aging, blindness, world hunger, education, and the arts.

In April 2015, Jayne Meadows passed away peacefully of natural causes at the age of 95 in the Encino home she shared with her beloved husband Steve from 1958 until his own passing in October 2000. Her death was announced by her son Bill Allen, CEO of the Los Angeles County Economic Development Corporation, who was with her in her final hours along with his wife Marie and Jayne's three grandchildren Bradley, Robert and Amanda.

Thanks for reading! Use the buttons on the side to navigate the site further or click here to go back the main page.