Welcome to Jayne's Biography!



A

ward winning stage, screen and television actress Jayne Meadows Allen lived a truly remarkable life. Born September 27, 1919 in Wuchang, China to missionary parents Francis James Meadows Cotter and Ida Miller Taylor Cotter, Jayne Meadows lived the first eight years of her life along the Yangtze River in China with her parents, brothers Frank and Edward, and sister Audrey Meadows, until a bombing of their village by the Nationalist Army forced her family to return to America in 1927. Schooled in Rhode Island and Connecticut, where her father worked as an Episcopalian clergyman, Jayne developed an interest in acting at an early age and began work in summer stock theaters in her teens.
Jayne's career as an actress was the stuff dreams are made of – a successful Broadway comedienne – a dramatic film actress performing opposite the likes of Katherine Hepburn, David Niven, Gregory Peck, Tyrone Power, Robert Taylor, Robert Montgomery, Lionel Barrymore, William Powell ad Myrna Loy – and a television star with innumerable prestigious dramatic and comedy roles, as well as five television series: I'VE GOT A SECRET (CBS - 7 years), MEDICAL CENTER (CBS - 3 years), MEETING OF MINDS (PBS - 4 years), IT'S NOT EASY (ABC) and HIGH SOCIETY (CBS).
Throughout her more than six decades in the entertainment industry, Jayne enjoyed extraordinary critical acclaim and received many honors, including the Emmy Award (1991) the American Book Award (1988), five Emmy nominations, a Grammy nomination (1985), and the 1990 International Platform Association Award for her one-woman show, POWERFUL WOMEN IN HISTORY, with which she toured the United States for seven years. She also received the Susan B. Anthony Award for her contribution to portraying women in positive roles, and in 1981 was presented with the first award given by the National Organization for Women for her TV portrayal of Ms. Anthony. She was also the recipient of several Doctor of Humane Letters degrees from various universities.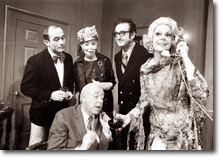 Tonight at 8:30
Click here to continue.