Welcome to Jayne's Theater Page!

Jayne made her debut on Broadway in the comedy Spring Again, and went on to star in six more Broadway shows. However, it was the Broadway hit The Gazebo (opposite Walter Sleazak) that established Jayne as a top comedienne. She had been called to Hollywood to begin a successful film and television career and her return to Broadway in the revival of Kaufman and Hart's classic "Once in a Lifetime" was met with rave notices.

Jayne had seven featured roles in Broadway plays and starred in her last two appearances.

"Spring Again" (1941 and 1942) Jayne's Broadway debut at 21 years of age as granddaughter of British star, Sir C. Aubrey Smith. Kirk Douglas had one line in the play and also served as the assistant stage manager.

"Another Love Story" (1943) featured role opposite "Topper" star, Roland Young. Author: Fred Lonsdale. Director: Clare Booth Luce.

"The Odds On Mrs. Oakley" (1944) Jayne stepped in on 48-hours notice to replace the original star of this Broadway comedy.

"Many Happy Returns" (1944) starred movie star Mary Astor and featured Jayne. Author: Claire Cummer.

"Kiss Them For Me" (1945) Jayne was featured opposite Richard Widmark with Judy Holliday in a supporting role. Author: Frederick Wakeman. Director: Herman Shymlin.

From 1945 to 1956, Jayne's commitments to film and television projects in Hollywood precluded her from being able to accept any Broadway stage roles.

"The Gazebo" (1957) starred Jayne in this hit play opposite Walter Slezak. Author: Alex Koppel - Director: Jerome Chodorov. In his New York Times review, the legendary critic, Brooks Atkinson said, "Every time Miss Meadows leaves the stage, the play comes apart at the seams and every time she returns, she pulls the play up taut."

"Once In A Lifetime" (1980) classic comedy revival, by George Kaufman and Moss Hart, directed by Tom Moore, starred Jayne, John Lithgow and Treat Williams. In his New York Times review Walter Kerr said, "Miss Meadows floats in like fresh green seaweed borne shoreward by her own tidal-wave of chatter, silver slippers and gloves, flashing signals like the RKO tower. She is very funny indeed."

THEATER: OFF-BROADWAY

"Love Letters" (1989-2000) Author: A. R. Gurney. Steve and Jayne have performed this popular play in California, across the U.S. and Hawaii for the past eleven years, to rave reviews.

"Lost In Yonkers" (1990) Author: Neil Simon. Jayne received a "Dramalogue" Award for her performance as the German-Jewish, crippled, eighty-five year old grand-mother in the Pulitzer-Prize winner.

"Once In A Lifetime" (1977) George Kaufman and Moss Hart. Jayne was featured at L. A.'s Mark Taper Forum in this classic and was the only member of that cast taken to New York for the Broadway production.

"Tonight at 8:30" (1970-71) Author: Noel Coward. Steve and Jayne toured, off and on, for several years in this classic.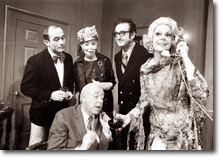 Tonight at 8:30

"The Four Poster" (1960) Author: Jan de Hartog. The Allens appeared in the Chicago company of this two-character comedy.

"Over 21" (1944) Authors: Garson Kanin and Ruth Gordon. Jayne made a U.S.O. tour of Army camps in the U.S. and Bermuda during World War II.