Below are just a few of Jayne Meadows' favorite roles on television:

"Danger" (CBS-1952) Director Sidney Lumet cast her in an intensely dramatic role in the popular "Danger" series. Thereafter the phone never stopped ringing.

"Robert Montgomery Presents" (NBC – 1952) Robert Montgomery ran Jayne's movie, "Lady in the Lake" for his TV writers and commissioned them to create an episode of his TV show for her. They wrote a tour de force dramatic role of twin sisters: one good and one evil.

"I've Got A Secret" (CBS – 1952) Jayne's agent at the William Morris Agency sent her on an audition for a new game show, "I've Got A Secret." Practically every well-known actor and actress in New York was auditioning but, fortunately, Jayne was an experienced game player, having grown up in the Rectory of a very Andy Hardyish town in Connecticut. She was chosen.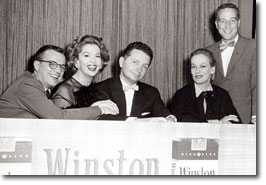 After her first appearance the producer Mark Goodson signed her to a seven-year contract and said: "You have a commercial personality – very saucy. I believe I can make you a star!" Within a few months, Secret was in the top 5 rated shows and remained there for the seven years of Jayne's participation.

"Hallmark Television Playhouse" (NBC – 1952) Jayne guest-starred with hostess Sarah Churchill.

"Suspense" (1953) Due to the tremendous popularity of "I've Got A Secret," Jayne guest-starred on almost every major dramatic, comedy, variety, game, and talk show during the Golden Age of Television (1950-1960's) in New York City. On Suspense she co-starred with an up and coming actor in one of his first TV shows – the loveable Walter Matthau.

"Studio One" (CBS-1953) Jayne stole all the reviews on one of the highest-rated episodes of this series.

"Kraft Theater" (1953) Jayne made several Kraft appearances but one was memorable because it introduced, in a small role, the brilliant Paul Newman. "Pulitzer Prize Playhouse" (CBS – 1954) Jayne's character was supposedly based on a combination of the fascinating Clare Booth Luce and General Eisenhower's alleged mistress. The script was taken from a John P. Marquand best-seller. "The Chesterfield Hour" (CBS-1954) Signe Hasso and Wendell Corey co-starred with Jayne on this live drama. During the final scene as Signe tried to exit the only door on the set stuck closed. She signaled to Jayne to follow and, they merely walked around the scenery. Corey who supposedly lay dead on the floor, not knowing he was still on camera, joined them -- such was life in live TV.

"Hallmark," etc. followed. In the 50's large corporations, as sponsors, owned their time-slots and controlled all content and casting.

"U.S. Steel Hour" (CBS – 1954) Franchot Tone starred opposite Jayne in this romantic drama, one of their favorites. The prestigious Theatre Guild was the producer. They begged Jayne to leave TV and return to the stage.

"Miss Universe Pageant" (CBS -1960 and 1961) Arthur Godfrey and Jayne emceed the first two years of this historic pageant.

"Seven Keys to Baldpate" (NBC – 1960) Her role on this George M. Cohan classic is one of Jayne's favorites.

"General Electric Theatre" (NBC – 1960 - ) The Allens co-starred on one the highest-rated episodes of this series in a very clever comedy. The announcer on the program was Ronald Reagan.

"Here's Lucy" (CBS – 1966) Jayne guested with her friend, Lucille Ball on this comedy.

"Here Come the Brides" (ABC – 1969) One of Jayne's favorite comedy roles.

"Hawaii Five-O" (CBS 1976) Jayne guested with her friend, Jack Lord.

"Hallmark Hall of Fame" (NBC – 1976) "Have I Got A Christmas For You" – an all-star cast presented this beautiful and true story of a group of Jews helping Christians during the holidays – another great comedy role for Jayne as the female head of a synagogue, opposite Milton Berle.

"Fantasy Island" (Aaron Spelling, ABC – 1977) Jayne made many appearances on this long-running show and she wrote the original story for an episode starring the Allens.

"Love Boat" (ABC – 1978, Aaron Spelling) Jayne made many appearances on this popular series. Steve also appeared aboard ship.

"Hotel" (ABC – 1979, Aaron Spelling) Jayne and Steve co-starred.

"Murder She Wrote" (CBS – 1986) Another great, glamorous dramatic role for Jayne.

"St. Elsewhere" (NBC 1987, 1988) Jayne and Steve received Emmy nominations as the parents of Ed Begley, Jr..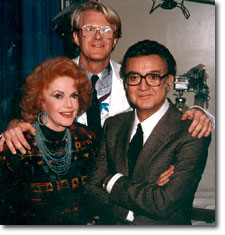 "Hawaiian Honeymoon" (NBC – 1989) This Disney series starred Jayne, Juliet Mills, and Barry Bostwick.

"Uncle Buck" (CBS – 1990) Jayne guested on this comedy playing the sister of her real sister, Audrey Meadows.

"Sisters" (NBC 1993) Jayne and Audrey played loveable, elderly siblings in this charming program.

"The Nanny" (CBS 1996) featured Jayne as herself.

"Matlock" Jayne guest starred in another program for her favorite TV producer, the prolific Aaron Spelling.

"Homicide, Life on the Street" (NBC – 1997) The Allens co-starred on this brilliant drama.

"Diagnosis Murder" (CBS - 1999) Jayne and Steve co-starred on this mystery-comedy with the show's star Dick Van Dyke and an entire cast of comedians.




)