Welcome to the Jayne Meadows Filmography


"The Story of Us" (Castle Rock, Universal –1999) directed by Rob Reiner, and starring Bruce Willis and Michelle Pfeiffer, is Jayne's most recent film in which she played the mother of exquisitely beautiful Michelle and says: "Obviously Pfeiffer took after her father."

"Casino" (A Martin Scorsese film - 1995) This fascinating, true-life story of the Las Vegas underworld of the 1970's starred Robert De Niro, Joe Pesci and gorgeous Sharon Stone. Jayne and Steve were appearing at The Sands Hotel in Vegas when their friend Scorsese sent for them to appear as themselves in "Casino," which became a smash hit.

"The Player" (Independent - 1992) Steve Allen and Jayne Meadows had great fun appearing as themselves at a supposedly typical Hollywood party with several other colorful celebrities in this clever Robert Altman film.

"City Slickers" (Castle Rock - 1991) The genius Billy Crystal starred in this enormously successful comedy. He personally phoned to ask Jayne to play his mother and said he'd never before had a mother on-screen but always envisioned Jayne if he did.

Although only a voice-over role, her performance in the movie worked so well that Billy invited her to be part of "City Slickers II" in 1994.

"Undercurrent" (MGM-1946) directed by Vincent Minelli and starring Katherine Hepburn, Robert Taylor, and Robert Mitchum, featured Jayne in her first film while under contract to MGM.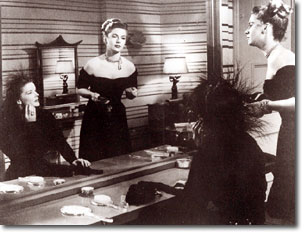 Katherine Hepburn and Jayne in "Undercurrent"
When the great George Cukor, who had directed Jayne's screen-test, asked Hepburn how his little protégé was doing, Kate replied, "Considering I'm old enough to be her mother and she's playing my rival, I think she's a genius."
Jayne received rave reviews on her performance. The picture is still seen regularly on movie channels.
The MGM makeup department warned Jayne not to smile too widely since she would "look like a set of piano keys "due to her unusually white teeth. Hepburn answered, "Pooh, they told me when I smiled I looked like a horse but I've made it pay for years."
"Lady In the Lake" (MGM –1947) Jayne's second picture, was produced and directed by Robert Montgomery (father of Elizabeth, the late star of TV's "Bewitched"). He cast Jayne in the highly dramatic role of a psychopathic murderess after having accidentally seen her rushes on "Undercurrent."
"This Raymond Chandler classic was the first subjective camera film ever made, and obviously was the inspiration for the then unknown Jack Webb, who spent weeks hanging around our set studying this new camera technique which he later used so successfully in his hit series, Dragnet," comments Jayne.
When Sammy Davis, Jr. met Audrey Meadows, he asked if she were related to the movie actress, Jayne Meadows. When she said "Yes," Sammy launched into an uncanny imitation of Jayne's eccentric three-page monologue after having just committed a murder. This cult-classic is still playing on TV and in art houses the world over.
"Song of the Thin Man," 1947, was the last of the popular "Thin Man" movies, starring Myrna Loy and William Powell. Powell gave Jayne the nickname "Busher," the actual name of Louis B. Mayer's champion race horse because, Powell said, she had such great legs…Jayne's glamorous role was the love interest. "Song of the Thin Man" was co-written by the late Harry Crane, who would later create the brilliant "Honeymooners" series.
"Dark Delusion", 1947, "was actually the last of the 'Kildare' movies and why they changed the title I'll never know," says Jayne. Lionel Barrymore played the crusty old doctor and James Craig was Dr. Kildare." Years later, Jayne guest-starred on the 'Kildare' TV series.
One day Craig asked Jayne if Meadows was her real surname. She told him "No," and that she had been christened Jayne Meadows Cotter. She explained that Louis B. Mayer ordered her to change the Cotter since they had a contract player named Audrey Totter (whose real surname, incidentally, wasn't Totter).
"Swell," said Craig, "my real name is James Meadows, but Mr. Mayer changed it to James Craig."
"Luck of the Irish" (FOX – 1948) as the title would suggest, may be seen on TV every St. Patrick's day. The delightful romantic comedy starred Tyrone Power, who personally chose Jayne for the role of his fiancé, a glamorous socialite, after viewing her performance as the unglamorous murderess in the cult-classic "Lady in the Lake." He told Darryl Zanuck, "That gal can play anything."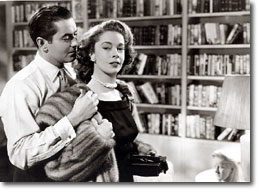 Tyrone Power and Jayne in "Luck of the Irish"
"David and Bathsheba" (FOX – 1951) starring Gregory Peck as King David, is considered a classic today, almost as well known as the original Bible story. Jayne played Queen Michal, David's first wife, whom he divorces to marry Bathsheba.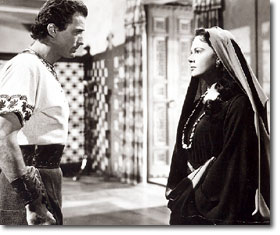 Gregory Peak and Jayne
One day Peck asked Jayne: "Why in the world would I give you up to marry Bathsheba?" and he nicknamed her "the girl with the black velvet eyes."

"Incidentally, his lovely wife, Veronique has black velvet eyes, as does he," adds Jayne.

Jayne had to cover her natural red hair with an exotic black wig for the film.

"Enchantment" (Goldwyn 1948) was one of Jayne's two favorite movies. First, because hers was such a great role. Sam Goldwyn had first offered it to Bette Davis, then to Geraldine Fitzgerald and other stars, all actresses years older than Jayne. Sam Goldwyn remembered having seen Jayne on Broadway and having offered her a contract, which she declined.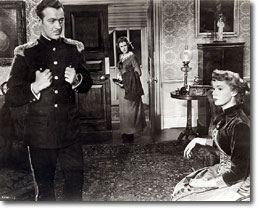 David Niven and Jayne in "Enchantment"
He phoned her on the set of "Luck of the Irish" and asked her to come to his office, that evening. Jayne declined, saying she'd be in makeup, to which he replied: "I love makeup. I'll put some on myself."

They met and he offered her the starring part without even a test but with the warning: "I hear you're quite temperamental, but I only like talented actresses.

"Well, Mr. Goldwyn," Jayne answered, "I hear you're very temperamental, but I only like talented producers."

He later announced to the press, "She stole my picture" and the critics concurred. Jayne played David Niven's sister and the London critics glowingly reviewed her as an English actress.

The legendary columnist, Louella Parsons gave Jayne her Cosmopolitan Award for the finest dramatic performance of 1949.

"The Fat Man" (Universal –1951) was based on a story by Dashiell Hammett, who also created the popular "Thin Man" series. The movie starred the world-famous circus clown, Emmett Kelly, who while playing opposite Jayne tried to persuade her to become a clown. When she asked what kind of clown she should be, happy or sad like his character, Kelly said, "Oh, you can't decide that until I make you up. The makeup tells you, but I'm sure with your eyes you'll be a happy clown." Rock Hudson had one line in the movie.

"It Happened To Jane" (Universal –1959). Jayne was appearing weekly on the hit game show "I've Got A Secret." Doris Day was the guest star one week, while filming "It Happened To Jane" in New York City.

The producers of the movie asked Jayne to appear as herself in a cute scene in the film.

She and Doris became friends and, with Mary Tyler Moore, Angie Dickenson and Amanda Blake, helped start the important "Fund for Animals" organization, followed by "Actors and Others for Animals.

"College Confidential" (Universal-1960) was sent to Jayne as a co-starring role opposite the late matinee idol David Jansen. Jayne said, "I'll do it if my co-star is my husband, the matinee idol Steve Allen." Universal agreed.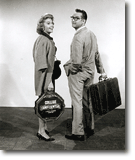 College Confidential
"Norman Is That You?" (MGM –1946) is probably one of the first hit plays and movies with a homosexual theme. This hilarious comedy had been successful on Broadway, in London, and ran for years in Paris. In the film Jayne played the glamorous mother of the white son, Norman, and Pearl Bailey was the mother of the African-American young man.
"Da Capo" (Finnish Film Company –1985) was an exciting experience for Jayne working in L.A. with an entire company of brilliant actors, producers and directors from Helsinki, most of whom spoke no English. It was a true story of a world-famous Finnish violinist who as a teenaged prodigy came to America. Unfortunately, while performing in Las Vegas, he became addicted to gambling and alcohol and ended as a homeless bum living on Venice Beach.
Jayne, the only American in the cast, played the richest woman in California, who financed the musician's early career. During the premiere in Finland, a telephone hook-up was arranged with Jayne in Malibu and she addressed the opening night audience.